Solar street lights reduces dependence on conventional electricity sources to light urban or rural areas, where power may be intermittent. The street light is customized for outdoor street lighting applications – be it remote rural locations, busy urban streets or roads/pathways in commercial/residential complexes.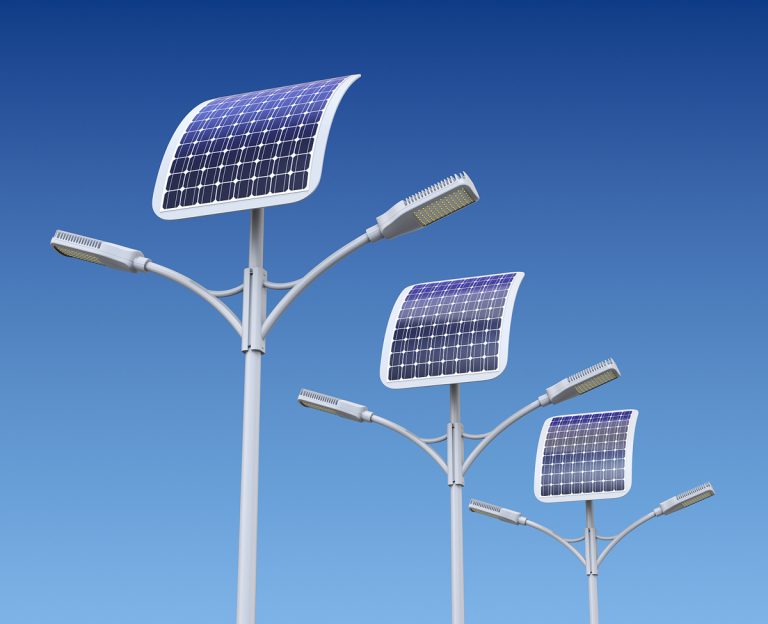 The solar street light comes in both CFL and LED variants.
Different battery types: Lead, Li-ion.
Different light types and capacity.
Automation features: Auto on-off based on the brightness outside, IR sensors.
Target customers: Homeowners, real estate developers, building owners or management.
There are two types street lighting solutions.
1) CFL Street Lighting Solution
Low power consumption.
Aluminium die cast body.
Smart battery management system with battery charging, low battery and load cut-off.
System components with built in reverse polarity, battery over-charge/deep discharge, over load, short circuit and open circuit protection.
Automatic Operation, DTDC/ Timer Modules.
Components:

• Solar module/array 40 Wp – 120 Wp for CFL Lighting applications

• High efficiency CFL Lamps 11W – 36 W
2) LED Street Lighting Solutions:
Low power consumption.
Aluminium die cast body.
Smart battery management system with battery charging, low battery and load cut-off.
System components with built in reverse polarity, battery over-charge/deep discharge, over load, short circuit and open circuit protection.
Automatic Operation, DTDC/ Timer Modules.
Components:
• Solar module/array 40 Wp – 120 Wp for LED Lighting applications
• High efficiency LED Luminaries 9W – 2